bgm 2 stroke oil PRO RACE & PRO STREET
Ultimate 2-stroke oil for your scooter!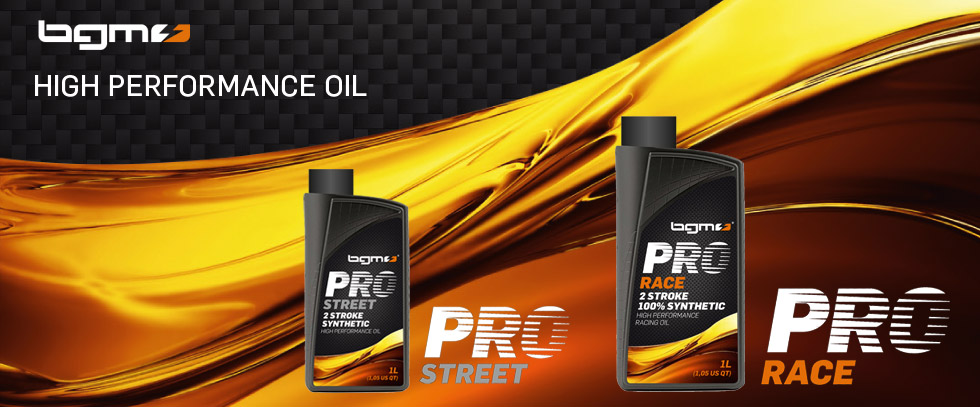 The bgm PRO oils is available in two different grades, semi synthetic and fully synthetic. both are perfectly suited for your scooter.
Choose depenging of the use of your scooter:
1. Standard scooters or mildly tuned engines.
Semi synthetic oil for all 2-stroke engines: bgm PRO STREET

bgm PRO STREET 2-stroke synthetic oil is a high quality 2-stroke oil. It fulfills all the Japanese JASO FC testing standards.
The JASO FC classification shows that it is low smoke oil, perfectly suited for all road engines. The rsidue-free combustion gives a clean exhaust port even after thousands of miles. This ensures a long life of exhaust and cylinder.
Special additives give a stable lubrication even under high load. Corrosion inhibitor is a matter of course as the abilty to use it for pre-mix as well as oil pumps.
Can be used for:
Vespa, Lambretta, Scootermatic Twist & Go  Scooters All 2-strokes (pre-mix, oil pump, injection etc.)
Details:
low smoke
Cleaner combustion than minerl oils
For all air- & liquid cooled 2-strke engines
Burning point: 72° C
Pour point: -22° C
2. Heavily tuned or racing engines.
Fully synthetic 2-stroke oil  for all 2-stroke engines bgm PRO RACE
bgm PRO RACE 2-stroke fully synthetic is 100 % synthetic produced high performance 2-stroke oil. It is a good choice for all powerful street and race engines.
It fulfills the highest and most rigid Japanese JASO testing standards. It gives a perfect lubrication and protection of all parts on every 2-stroke engine.
The very low burning point gives a perfect lubrication right from the start as well as the full power of the engine and a clean combustion even under partial load only.
The JASO FD gives a residue-free combustion and a clean exhaust port even after thousands of miles. This ensures a long life of exhaust and cylinder.
Special additives give a stable lubrication even under high load. Corrosion inhibitor is a matter of course as the abilty to use it for pre-mix as well as oil pumps.
Can be used for:
All 2-strokes (pre-mix, oil pump, injection etc.)
Details:
low smoke
Cleaner combustion than mineral oils
For all air- & liquid cooled 2-stroke engines
Burning point: 90° C
Pour point: -48° C